Welcome to these gallery pages. The portfolio (links on left or above) has principal sections for (1) sculptures made of the artist's favorite materials, wood and steel; (2) drawings and paintings, which are included because--whether abstract or figurative--they inform the sculptural works. Section (3) has photos of displayed works, links to related places, etc.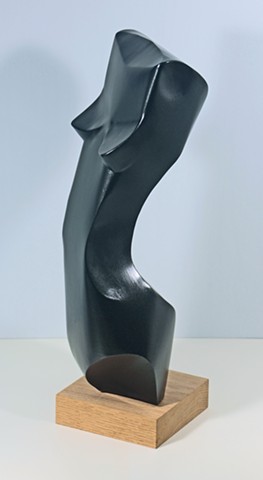 Artist's Background and Overall Artistic Objective
Although he painted well-received abstracts for relaxation in college and grad school, computer scientist turned visual artist Gordon E. LYON acquired his formal art training later, starting in 1999 with drawing and painting classes of Washington area artist Doris Haskel. In 2006 he enrolled in art at Montgomery College, where he received a solid foundation that included theory, design and considerable studio experience. Lincoln Mudd's sculpture classes inspired a shift that now emphasizes three dimensional works.
Many of Lyon's works show evidence of how they were fabricated (or painted). Additionally, an underlying motif runs through everything:
"My artworks, which exhibit considerable stylistic variation, explore the seemingly innumerable facets of visual abstraction. Each piece is an experiment. My works range from representational (realistic) to formal compositions that represent nothing at all. A unifying thread is the dimension of abstraction, for all art lies somewhere on this important continuum. A central question for me is: where does a work lie on the abstraction axis and how does the piece affect viewers?"
Lyon's investigations include examining audience participation in viewing art, an interest that reflects his earlier science career. He presented preliminary results of his novel "words and numbers" study of art abstraction at a conference in 2017. A larger study--delayed by Covid-19--uses Amazon Web Services (the so-called Mechanical Turk) to find participants. Google Forms support the customized artwork questionnaire. Over 3300 data points have been collected; first results look very good!
Torso; welded sheet steel, painted, with oak base;
19h x 7w x 7d (inches); completed 11/2020. Held privately